The best things in life happen on a bayside and Fish Hoek epitomises the best in bayside living....
It is a community close to all the modern conveniences yet surrounded by the best nature has to offer: an exquisite blend of sea, mountain and shopping.
People discovered the magic of the Fish Hoek valley 15,000 years ago and ever since, creatures large and small have shared in her beauty. Whales sojourn in the bay every springtime and holidaymakers flock to the beach for carefree seaside holidays.
Cape Town is known as one of the most beautiful cities in the world. While a few days is enough to get her under your skin, it is never enough to experience all this magical place has to offer.
BAYSIDE SUITES: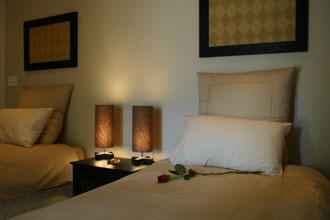 Tastefully rennovated with German precision, Bayside Suites comprises of fully furnished ultra luxury self catering suites.

There are four rooms available all with own en-suites which can be joined together to form from 2 to 3 seperate double suites or one large villa.

COMFORT - Each suite contains:

Fully fitted and functional kichenette

En-Suites for each room with either bath/shower/both

Heated Towel Rails

Underfloor heating

Double Glazed windows

Private Entrance

Satellite Television

Internet Connectivity

Uninterrupted Power Supply

Guest Services:

Rooms cleaned on request
Bathrooms Towels provided
Complimentary Tea/Coffee